PARTNERSHIPS AND COLLABORATIONS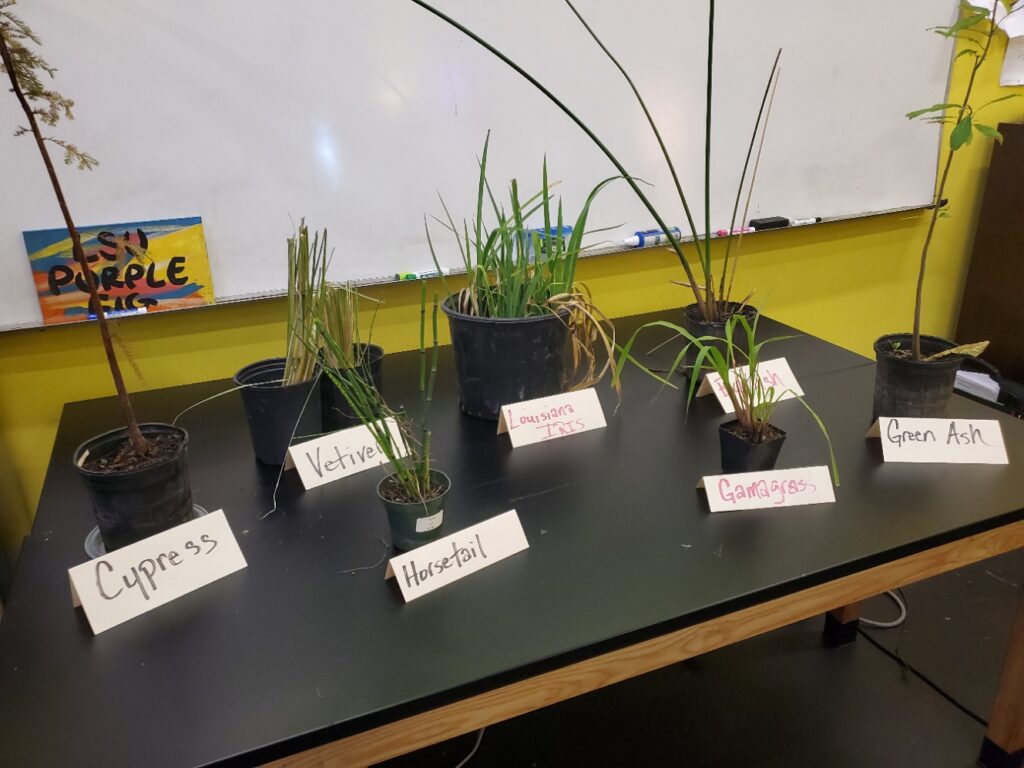 Collaborating On REstoration (CORE)
We are intentional about creating and supporting meaningful youth engagement opportunities for the next generation of climate leaders and environmental stewards. Through partnerships and collaborations, students can actively engage in hands-on approaches to the environmental science curriculum, including, but not limited to:
• Biodiversity
• Green Infrastructure
• Hydrology
Partners:
ReCoast/Glass Half Full (Recycling)
L9CSED first partnered with Glass Half Full in late 2021, and in May 2022, we collaborated with Reverend Willie Calhoun and the City of New Orleans to launch the Ninth Ward's own public glass recycling program. Together, we diverted glass waste from the landfill and repurposed the recycled material to restore the Louisiana coastline.
Locations
We currently sponsor seven commercial-sized glass deposit sites throughout the Lower Ninth Ward, including local businesses and nonprofit organizations. You can find a map of those locations here.
2023 Outlook
In 2023, we plan to expand and disseminate the program for a wider reach. We want to improve the accessibility of recycled materials for Lower Ninth Ward residents by providing sandbags for stormwater flood protection, gardening material, and more, all while building excitement through innovative approaches to community engagement.
Get Involved
We currently have two opportunities for you to join environmental conservation efforts. Send us an email for more information about:
• Neighborhood Captain
• Hosting a Bin on Your Block or in Front of Your Business
Common Ground Relief
We are proud and grateful to collaborate closely with influential coastal restoration and community advocacy leaders, such as Common Ground Relief (CGR).
2023 Goals
L9CSED and CGR, alongside a host of volunteers and coastal restoration and neighborhood organizations, will be taking steps to heal our wetland system and fortify our city against increasingly destructive weather patterns. We'll execute several targeted plantings of thousands of cypress trees and marsh grasses within the Bayou Bienvenue footprint.
Volunteer with Us
Calling all planters: if you or your group are interested in joining the advocacy, check out our events calendar for dozens of opportunities for the 2023 planting season, or email us.
Ninth Ward Artists Showcase
We're proud to support this arts' collective to highlight the amazing talent of the Lower 9th Ward artists' community – in collaboration with Rachel Slater of Tulane University's Mellon Fellowship and Body Art Dance.
We kicked off the event series on January 14th, 2023, at the CSED Outdoor Learning Center – showcasing the work of four (4) artists from the Lower Ninth Ward community.
Get Involved: We hope to continue to bring more Lower 9th Ward artists into this paid opportunity and community-based platform to share their talents. Interested in participating in this event series as an artist or vendor – email us at: info@sustainthenine.org.